Internationals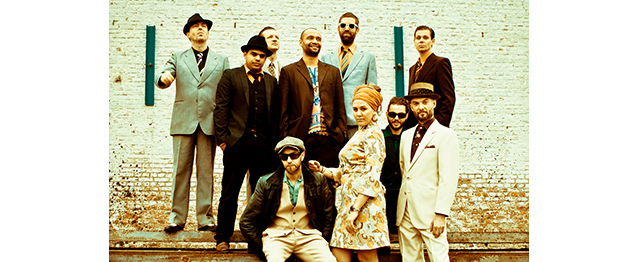 © Bernaded Dexters
Internationals has become a familiar name on the Belgian stages. Started out in 1998 as an old school ska band - modeled after their great example The Skatalites – they have grown into a band with a completely unique sound. A vintage soulful sound, laced with influences ranging from Afro, calypso, reggae and jazz ..

After a long break since 2008, they are ready for another hot summer. The 8-piece band was supplemented by new forces; Accou Lizzie (former De La Vega) on vocals, and Marc Thijs (ex-Electric Kings) on guitar and vocal.

As artist in residence at TRIX, they are rehearsing for their new record that will be released in February 2012. The sequel to "The Wonders Of The World 'from 2005.

Internationals have earned their stunning live reputation over the past decade on the Belgian festival and club scene, among which Reggae Geel, Couleur Café, Feest in the Park, Pukkelpop, AB, Melkweg, De Vooruit and many more. They have toured in both South-Africa and Europe. On stage these tigers give a danceable, enthusiastic show.
{title_LineUp_en}
Lieven Declercq (drums)
Denis Dellaert (guitar, vocals)
Thomas De Prins (keys, vocals)
Roel Jacobs (tenor sax)
Dennis Niccles (bass)
Hans Schroeven (tenor & bariton sax)
Marc Thijs (guitar, vocals)
Dirk Timmermans (trumpet)
Lize Accoe (vocals)